Take advantage of  cost-effective, hyper-local marketing opportunities to promote your business with the Aurora Chamber. Increase your exposure and grow your business! The Aurora Chamber of Commerce could not plan and execute 50+ events each year without the support of our valued sponsors. We greatly appreciate the past, present and future support of our sponsors.
For more information or to book an Advertising opportunity Contact Seanna Murray

Branding Package
This advertising package allows your brand to gain visibility, credibility, and lasting impact, effectively engaging a broad and influential audience. With inclusion in three newsletters reaching over 4,500 contacts and a prominent online presence for three months, your brand gains broad recognition, credibility, and a powerful competitive edge in today's market.
Includes:
3 E-newsletter Ads
Clickable website ad on the Aurora Chamber Website - 3 months
Chamber Champion Banner
Valued at $650
$500*
*Members Only
ACC Website Ad
1 Month $100
3 Months $250
6 Months $400
1 Year $750
* Members Only
E-Newsletter Ads
1 Ad $75
3 Ads $200
6 Ads $350
12 Ads $800
* Non-Member 1 time $100
Chamber Promotions Newsletter
The Specials & Promotions Newsletter is a bi-annual digital publication focused on promoting local business. This is a great way for you to showcase your events, promotions, sales, news and specials. Each seasonal e-newsletter (Spring/Summer & Holidays) is featured on the Chamber website for 6 months, lands in the inbox of over 4,500+ subscribers and is featured on our Social Media to over 6,000+ followers.
Spring / Summer
Full Page $125/$200 (non-member)
Half Page $75/$125 (non-member)
Holiday
Full Page $125/$200 (non-member)
Half Page $75/$125 (non-member)
Both Spring/Summer & Holiday
Full Page $200/$350 (non-member)
Half Page $125/$200 (non-member)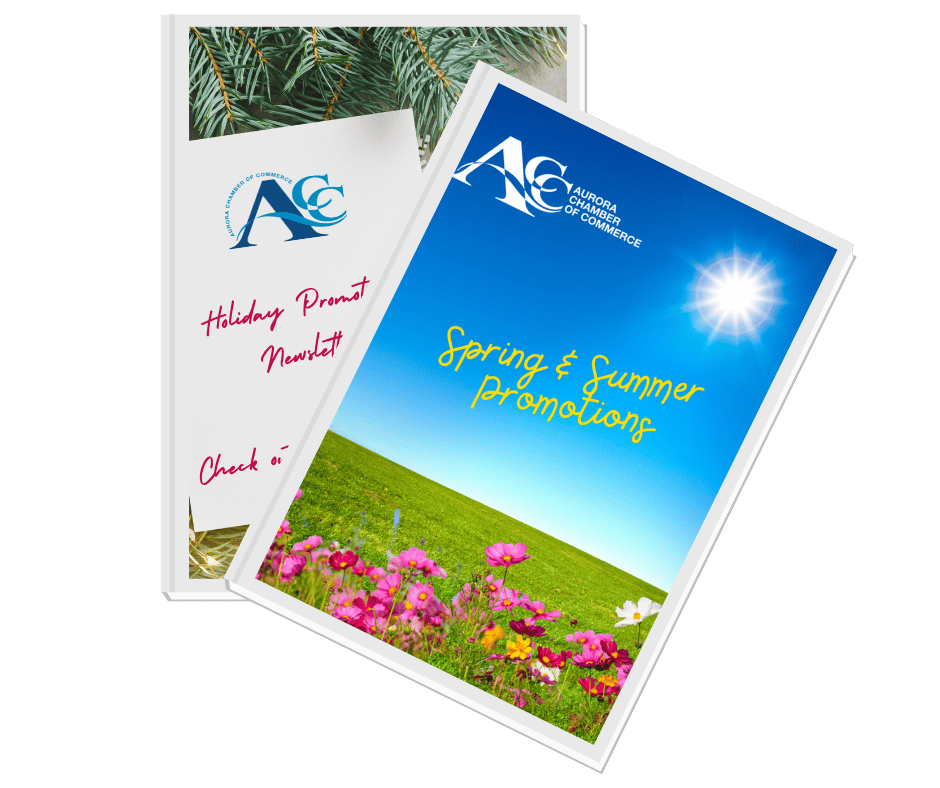 Interested in Becoming a Sponsor?
Becoming a Sponsor for the Aurora Chamber of Commerce provides your business with valuable visibility and networking opportunities. It enhances your brand's reputation and credibility, granting access to exclusive events and a platform to reach a diverse audience of local business leaders and potential customers. It can also facilitate partnerships, growth, and community involvement while supporting the local business ecosystem.
Champions' Banner
Every Year in December the Chamber offers business an opportunity to display their logo at all of our events on a Champions' Banner. The Banner is used all year from February to December at over 40+ Chamber events, seminars & workshops.
$125.00 / Per logo
last 2 rows of banner discounted to $100